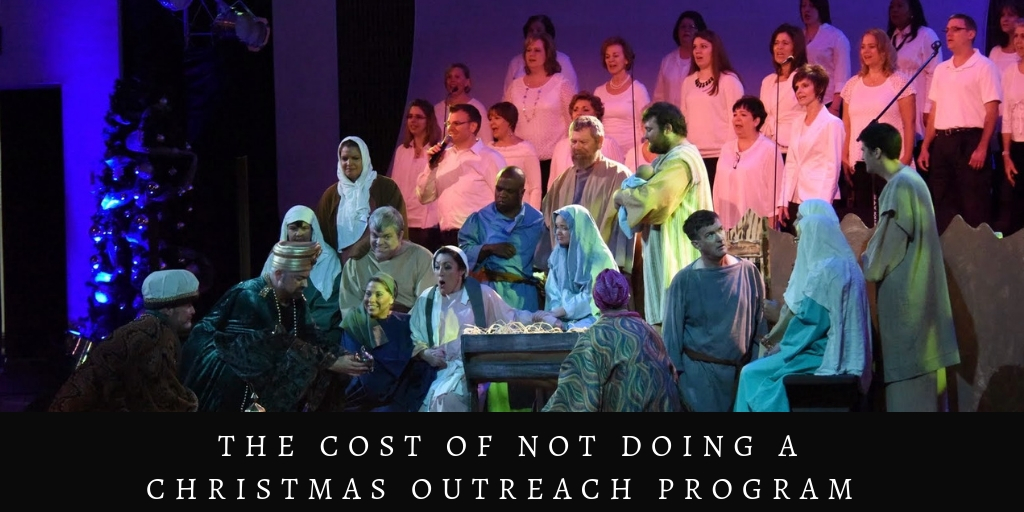 The Costs of NOT Doing a Christmas Outreach Program
They say 'It's the most wonderful time of the year,' but from Thanksgiving until New Year's the season is filled with shopping, parties, cooking, travel, spending time with loved ones – and more.
Even those of us who believe in 'the reasons for the season' are guilty of filling our December with so much activity that we wonder if that church Christmas outreach program is really worth it.
We start thinking things like:
• It seems like everyone is asking me for money this year.
• If someone asks me to do one more Christmas shoebox, I'll scream!
• Please, not another Christmas play!
While it might seem like your Christmas outreach program will just get lost somewhere between your town and the North Pole, don't discount the fact that the Christmas season is the loneliest and saddest time of the year for many.
These are the ones who need to see, hear and experience the Good News of the Gospel from those of us who really do believe it – even as we dash from sale to sale and party to party.
If your church is on the fence about a Christmas outreach program this year, consider these reasons why you should get off the fence and make an outreach plan.
Because there are real costs if your church chooses NOT to do a Christmas outreach program.
Here three of them:
#1: It will cost you opportunities to share the Gospel.
Some people have a reputation for only going to church at Christmas and Easter. If you don't reach out to these people during this season, when else will you do it?
There are many reasons people don't go to church. Some live in unbelief, while others live in hurt. Either way, this is your chance to be a light in their darkness and a beacon of hope in their faithlessness.
Don't miss an opportunity to change someone's life for eternity!
#2: It will cost your congregation opportunities to serve.
The Christmas season is a perfect opportunity for your congregation to serve their community. In fact, everyone from children to youth and adults should be missions-minded during the Christmas season.
Depending on the size of your church, you could organize one or more outreach programs for your community.
You could:
• Organize a community event such as a dinner theater, where you serve a nice meal, followed by a Christmas play performance that tells the story of the birth of Christ.
• Use Christmas to shine a spotlight on missions by creating a Christmas market consisting of items made by native people from developing countries. You can use the profits for missions and take the opportunity to educate your congregation and community about needy parts of the world.
• Offer a 'Christmas Camp for Kids'. With Christmas shopping to be done and office parties to attend, parents need babysitters. Organize a Saturday 'Christmas Camp for Kids' and connect with the children by making handmade gifts, decorating cookies, watching Christmas movies, or maybe stuffing stockings with toys and candy for needy children.
#3: It will cost your church and community an opportunity to celebrate the true meaning of Christmas.
If you don't make a big deal out of Christmas, what is that saying to your church and community?
Our role as the church is to be salt and light in our world. With our culture already engaged in the season, Christmas is top-of-mind for everyone. It's important to train our church members to take the lead in celebrating Christmas and be the spokespersons for why we celebrate. We should show love in as many ways as possible and point our community to the manger – and the cross – during this season.
It's not only our responsibility but our honor as well.
The Most Wonderful Time of the Year
To be sure, Christmas IS the most wonderful time of year. So why not take full advantage of opportunities to encourage your church congregation to connect with their communities and make it the most wonderful time of year for the right reason!
If your church is looking for a Christmas outreach program in the form of a Christmas play, consider my play, 'Christmas at Bethlehem Inn.' You can download and read the script here.