Hi Friend,
Thanks for requesting a copy of the extended version of Christmas at Bethlehem Inn.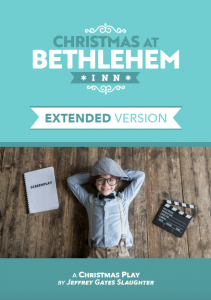 In this version, I've added three new scenes:
1) The Market
2) The Stable
3) The Wise Man's Dream
These three scenes add depth to the story and lengthen the play from about 25-30 minutes (without music) to 40-45 minutes (without music.)
To download the script, click CABI.2019.extendedversion.
If you like it and have already purchased the rights to produce the play, great! Please let me know which version you decide to go with.
If you like it and haven't yet purchased the rights to the play, you can make your purchase here.
Either way, I'd love to know what you think about it.
Thanks again for your interest.
Jeffrey Gates Slaughter
www.christmas-at-bethlehem-inn.com