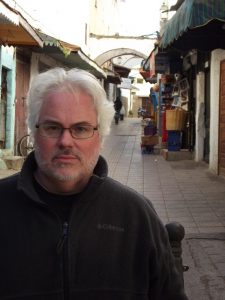 My name is Jeffrey Gates Slaughter and for many years my mission was to find a church Christmas play that would:
Entertain and captivate attention
Teach and inspire
Minister and encourage
And finding a play to do all of that wasn't easy.  Can I get an 'Amen'?
So I decided to write my own. 
I let my imagination run wild and began to wonder about the innkeeper in Bethlehem and what part he played in the greatest story ever told. 
What kind of person was he?

 

Did he have a family?
What did they think about the star that appeared above their stable?
How did they respond to the attention paid to the baby from shepherds and wise men?
What kind of relationship did the innkeeper and family have with Joseph, Mary and Jesus?
The more I thought about questions like these, the more intrigued I became at how the story must have affected their lives. 
So I began to write.
With words, I painted a picture of this seemingly insignificant family who offered Joseph and Mary shelter in their stable. I imagined their lives: what they thought, what they feared and what they hoped.
The Bible gives us no information about the innkeeper so there is no way to know what kind of people he and his family were. So I created characters that were plausible and wove in the traditional Biblical Christmas characters including the shepherds and wise men. 
Finally, I added a subplot featuring an unbeliever who was transformed by the story and the testimony of Joseph and Mary's faithfulness. 
And voila! 'Christmas at Bethlehem Inn' was born!
The play premiered at my church in Jackson, Mississippi with a cast of adult actors and one child. Several years later, I used it at my church in Brussels, Belgium with a cast of children. It was perfect in both church settings and I began to share the play online.
Since then, churches in eight states and four countries have performed the play. It was even produced as a radio program in Sri Lanka and broadcast to a national audience of more than 100,000!